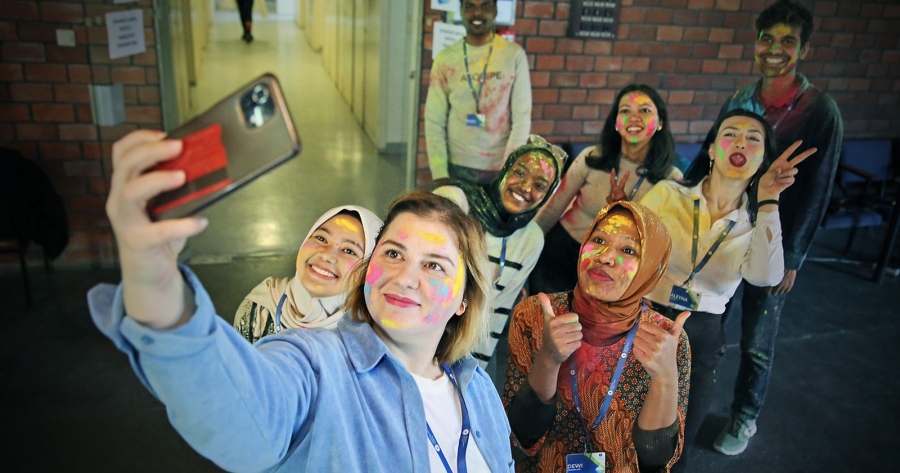 The next call for applications for the open programme offered by Young Universities For the Future of Europe (YUFE) starts today. As part of the YUFE Student Journey, you can attend classes offered online or travel to a partner university.
Another 60 students will be able to join the programme, which offers a choice of academic courses, language classes, pro-social activities and skills training run by nine European universities. Participation in the programme is free of charge and lasts for a maximum of four semesters. During this time, it is up to the students to decide how many opportunities they will take advantage of and whether to follow the programme from home - through virtual courses - or to go to a partner university. The trip is funded by the Erasmus+ programme. However, it differs from a traditional exchange as you can mix both types of mobility and combine activities without being limited to one foreign university. This provides an opportunity to create a personalised educational plan. Courses may fit into the main study programme or address interests outside the discipline.
On the YUFE Virtual Campus you can browse the full offer and fill out the application form. Enrolment ends on 26 May. YUFE awards students for their involvement in mobility, language learning, entrepreneurial activities and pro-social work with a YUFE Star. Students receive a certificate for earning two stars, 12 ECTS, and listening to 3 open lectures organised within the YUFE Academy.
- I joined the Student Journey because I wanted to see how classes are held in other countries. Thanks to the virtual offer, this is possible without leaving Toruń,' says Kasia Budzyńska, a Faculty of Fine Arts conservation student. Kasia has signed up for an online German course but is also considering a trip to a partner university.
Whereas Eyyüb Güven, a cognitive science student, is embarking on a short YUFE mobility and will spend a week taking classes in Antwerp. During the YUFE Student Journey, Eyyüb is also trying to collect as many YUFE Stars as possible. - It's good and motivating to see how many courses I've already done and what star is within my range. If you like travelling, learning languages and improving yourself in different fields, YUFE is the best choice.
More details about the programme can be found at umk.pl/en/yufe/students/. We also encourage you to contact us at admission_yufe@umk.pl or visit one of the YUFE information points:
17 April in the hall of the Faculty of Economic Sciences and Management

20 April in the hall of the Faculty of Philosophy and Social Sciences

26 April in the hall of the Faculty of Pharmacy

27 April in the hall of the Collegium Humanisticum
We also invite you to the virtual open days organised by YUFE:
Pre-registration is required.